Michael has loved music since he was a child and was heavily influenced by the records his parents would play around the house, many of which he still has. "I can remember hearing lots of different sounds around the house: Ray Charles, Sergio Mendes & Brazil 66, Stevie Wonder, Lou Rawls, Ella Fitzgerald, Carmen McRae, the Motown groups and so many jazz artists. I didn't really know what I was listening to, but it all became the soundtrack to my childhood." Michael's appreciation for music would only grow as he was exposed to more different types of music.
Michael started playing the guitar in 1981 when his brother-in-law gave him his first instrument. Soon after, he hooked up with Rory Seldon at the church they both grew up in, and the seeds of INNERSESSION were born. By that time, Michael had discovered the music of P-Funk (Parliament, Funkadelic and Bootsy Collins) which led him to Rock n Roll in general and Jimi Hendrix in particular, all of which heavily influenced his style of playing. Around 1988, Michael also began playing the bass after Rory bought one with the intention of learning to play it. Rory never picked it up, but Michael did, and soon became a dual instrumentalist. Michael continues to play both instruments today.
In the early 90's, Michael began playing the bass with a group of his co-workers, the L.A. DOTs. Led by the brilliant guitarist Harry Scott, this group played a wide range of Blues, Classic Rock, R&B and dance music. They quickly went from just playing at the annual LADOT Christmas party to the larger "City Circuit," playing for functions such as retirement parties, picnics, the City Attorney's office and one of Mayor Richard Riordan's farewell receptions. They were scheduled to play at the Grand Re-Opening ceremony for L.A.'s City Hall building in September of 2001, but that celebration was cancelled after the horrific events of 9/11.
Michael is currently a member of RORY SELDON with INNER SESSION, playing regularly with the group. Michael's musical interests remain as diverse as ever. He enjoys listening to jazz, classical, rock, punk, ska, hip hop, reggae, fusion, heavy metal and more. Michael is also a devoted family man, an IT professional and an avid skier.
Michael Chaney
Guitar, Bass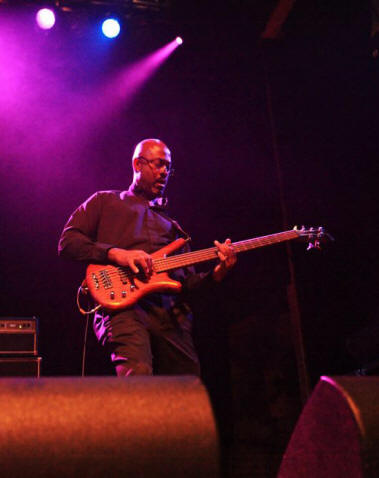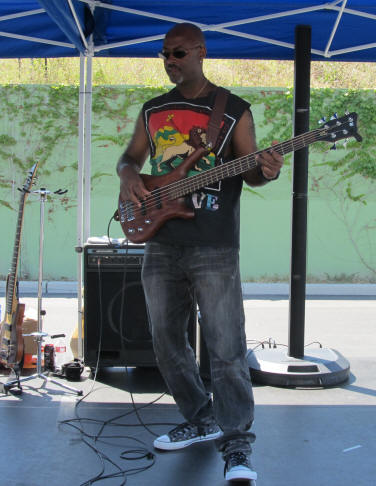 Cyndi Holman
Vocals, Keyboards, Percussions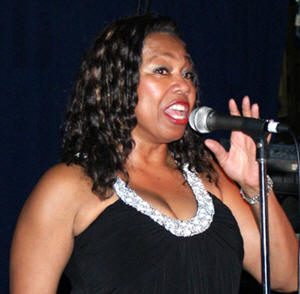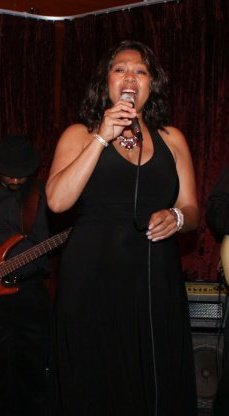 Even as a young child, Cyndi was always drawn to music. From playing songs for Sunday School to playing 1st violin in Middle School. She was in numerous talent shows during high school and college. Realizing that she had a love of music and the arts, she went on to study classical music for 6 years and also did theatrical performances in her home town of Tulsa, Oklahoma. After relocating to California, Cyndi joined a local church praise team where she began singing more regularly.
Cyndi loves to listen, and gets her inspiration from, classic divas such as Aretha Franklin and Gladys Knight. It is no wonder that her voice rings through with a powerful resonance.
Cyndi met Rory Seldon in 2002 and has recorded lead and background vocals on ETCHED in STONE, CELEBRATING CHRISTMAS with FRIENDS and ALL I KNOW. When Rory pulled INNERSESSION back together, he called on Cyndi to add her special blend of vocals to the group. Cyndi's authentic, pure sound is refreshing and powerful. Cyndi is also a member of a musical theatre group in West LA and can be seen in performances in local plays around town.
In her spare time, Cyndi loves to dance and make jewelry. "Life is too short to stand by and be idle. Take every opportunity that God gives you and make the most of it!"
Keith began his musical career in high school. He started on the snare drum in beginning band. Keith advanced quickly before the semester was over moving on to marching band, stage band, and concert band. He played tri-toms in marching band, the drum set in stage band, and the snare drum in concert band. As a senior in high school, Keith was recruited to perform in an orchestra big band called Esquires. Esquires were a non-profit band that performed at many Elks Clubs located throughout the Los Angeles area on every Saturday night. All of the proceeds from the band playing went toward awarding scholarships to the band members to further their education in music. Keith continued to play with the band for several years after high school.
The next stop for Keith was church. He took great pride in playing worship music at Hephatha Lutheran Church in Anaheim Hills, Ca. Keith recorded a CD with Tim Graf, the music director at Hephatha, called Victory. It featured all original worship music written by Tim. In 2001, Keith recorded another CD with Mike Cooper, the current music director of Hephatha. It was dedicated to the 911 victim's families with all proceeds donated to their foundation. Keith played at Hephatha for about ten years. Keith also played percussion at Buena Park Church of the Nazarene for a couple of years in Buena Park, Ca.
About two and a half years ago, Keith and his wife, Sheri, were invited out to enjoy a dinner show featuring Rory Seldon with InnerSession. They both enjoyed the show very much and attended several shows after that. Keith really enjoyed the originals the band played and the era of music that the band performed. The music brought back some great memories for Keith.
Keith joined Rory Seldon with InnerSession in December of 2011 playing percussion. In December of 2012, he moved over to drums. Keith is very proud to be a member of InnerSession playing originals and the music he grew up on.
Keith Chustz
Drums/Percussion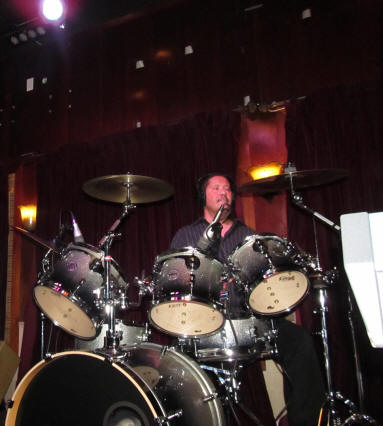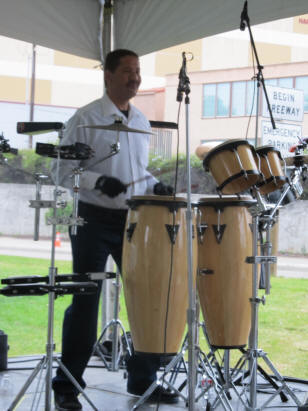 Gary Somerville
Guitar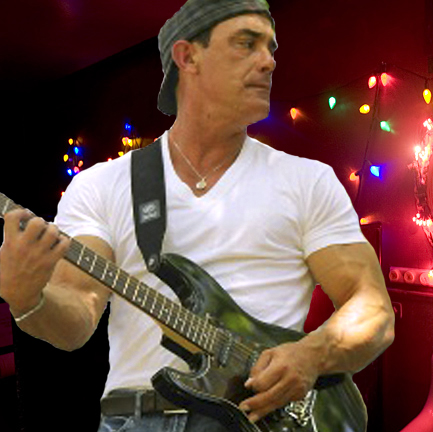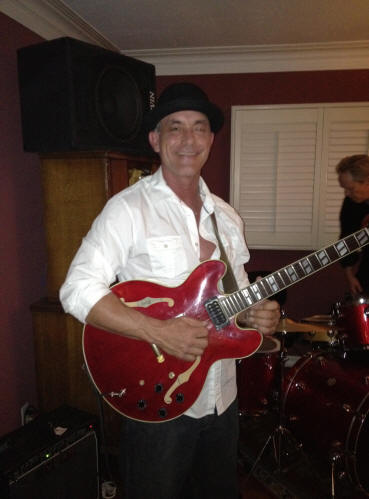 The guitarist of the band comes from a wide background playing with different artists from many genre of music. Artists such as Smokey Wilson, Barbara Lynn and Carey Bell and Finas Tasby to name a few. Gary is a consummate musician and studies music, music theory and enjoys playing R&B, Funk, Jazz, Country or a Fusion. Gary played with great artists from the blues and R&B world like Smokey Wilson and Barbara Lynn, Guitar Shorty and Finas Tasby even doing a stint for several years in the 90's playing country with the band Due West that toured and played the huge Inland Empire Circuit so popular during the "Urban Cowboy Years."
Since having an family and starting a business which became successful in the mid 90's Gary slowed down and started finding homes in more local show bands playing with bands like the Resentments, Mainline and Porterhouse Bob and Down To The Bone, a New Orleans Funk and Mardi Gra band with stellar musicians who came from bands ranging from Dr John and Elvis Presley to Ray Charles who like Gary have been there and just decided to settle down and stay closer to home.
His wide genre background makes his particular style of guitar playing a treat to listen to. His mindset, having learned from his mentor Terry Derouen (Platters, BB King), that "your job is to make them sound better son" is more in line with "play the song" "not the instrument." He becomes and integral part of whatever team he's on and a perfect match for InnerSession.
Gary joined Rory Seldon and InnerSession after being invited to audition earlier in 2016. Loving the players in the band, the music and professionalism of the band he decided to make it his home.
Yvette is one of the newest members of InnerSession. She was born to native parents of Haiti, Port Au Prince and South America, Guyana. "I love to dance Afro Caribbean and to anything that has a good beat."

She has done extensive singing in gospel choirs while growing up and often performed in sign language with the the entire choir. Her musical tastes are extremely wide from Reggae to Deep House. She loves Sade, Soca, Calyspo, Zhane, Kem, Rhianna, Yanni, Tina Marie, Toni Braxton, Luther Vandross and anything Reggae.

Yvette makes a great addition bringing her wide diversity to the band!
Yvette Louis
Vocals