Rory Seldon
Vocals, Keyboards, Percussions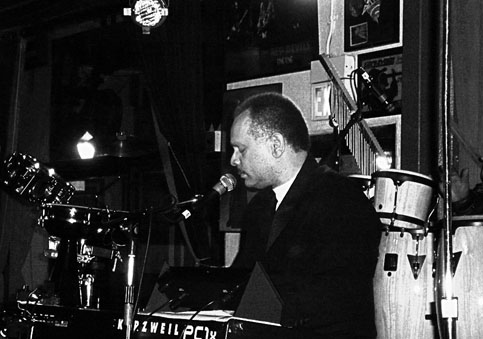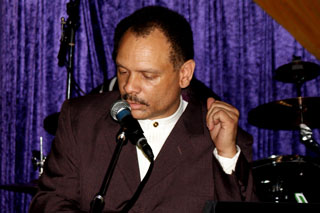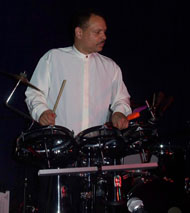 Inspired by artists such as Stevie Wonder and Ray Charles, Rory Seldon took up an interest in keyboards and synthesizers. He then formed a group called Intercession with members of his home church. They played at various functions and in the Los Angeles area. Later, the group expanded and changed its name to InnerSession, and began playing for larger audiences. Although the music was a form of contemporary gospel, it was often spoke of as different and refreshing.
In 1990, the group had its first headliner concert WHAT I GOT TO SAY CAN'T WAIT at the Ebony Showcase Theatre as Rory Seldon with InnerSession. The group continued to perform in the Los Angeles are and recorded a collection of 10 songs (mostly original) called MUSIC FOR THE SOUL. Due to the success of the first headliner concert and the album release, in 1992 the group had another concert MUSIC FOR THE SOUL at the Patriotic Hall in Los Angeles.
Shortly after that the group was disbanded and Rory Seldon continued on his musical path working extensively with his church and other church choirs all the while still writing and recording songs. In 2004, Rory produced his second recording project, ETCHED IN STONE, featured 11 songs which caught the attention of many new fans. Featured on this album is a mixture of wonderful vocal talents including Cheryl Hall, Toni Conely, and Shelika Zeigler of "Special Blend." Also lending their voices to this project were Cyndi Holman and Regina Blaylock. Rory's unique arrangements of How Great Thou Art and Swing Low Sweet Chariot showed that there is still life left in those old favorites. But, it is the uniqueness and power behind his original compositions that made ETCHED IN STONE a success. The hard-hitting vocals in Doing Life speaks of making a difference in one's life and looking for a more positive future. A Prayer For Our Children strikes a chord with anyone who has raised or is raising children and Skid Row touches on the hard reality of street life.
In 2005, CELEBRATING CHRISTMAS WITH FRIENDS, featured Christmas favorites done "Rory's way." With this collection of songs, Rory was able to showcase several of his friends while we had another chance to hear his arranging talent.
In 2006, ALL I KNOW was released. This CD featured 11 songs including 7 original songs done in Rory's unique style. ALL I KNOW features new and unique arrangements of popular songs such as The Lord Will Make A Way Somehow and inspiring originals. The title track, All I Know, feels like an inspiring day at church. While A Long Way From Home will make you sit back and ponder the messages in this song. Stop The Madness! and The Only Thing That Does Change hits on life's realities and traditionals like a catchy blend of Go Down Moses and Steal Away make this CD a must have for anyone looking for excellent music with a positive message.
After the success of the last two CD releases, Rory decided to reinvent his group with the emphasis on more live performances. Today's Rory Seldon with InnerSession features Rory Seldon on vocals, keyboards and percussions. The band is very unique in its sound with a variety of instrumentation including keyboards, guitar, bass, drums, congas, percussion and two additional female vocalists.
In 2012, CROSSING THE LINE was released. It is a smooth and funky CD with enough variety for everyone to find something that they like. The opening track, Superstition, will definitely get your attention to warm you up for what will be a great listening experience. Followed by a crowd favorite during our live shows, The One That's Really You, featuring a cha-cha style beat. Next up is the title track, Crossing the Line, which will capture you with its groove as it takes you through a journey of motivation and drawing the line with nonsense. Happy Feelings is a smooth rendition that will make you want to kick off your shoes and relax. Come To Me First, will make you want to get up, groove and party on the dance floor! Over My Head is an original and unique version of an old traditional spiritual song that will leave you singing that for days to come. It also features a great father/daughter duet. Think Before You Act features a jazzy groove as it gives a mother's message to her child while Someday is a soft song which will make you reflect about what we all inspire to be. The soulful rendition of I'll Take You There will definitely make you want to get your praise on while People Make The World Go Round will relax you and send you to a peaceful place as you listen to a harmony of guitar and keyboard. We conclude with Summer which features some great percussion grooves that will leave you feeling the beat and ready to start the CD from the beginning! This CD also features work by Cyndi Holman, Michael Chaney, Pete Drey, Regina Blaylock, Rick Marcello, Thea Jones and Tony Allen.
Rory was born and raised in Los Angeles, California. Rory's love for music began at an early age. At age 13, he began playing the trumpet. He also studied other brass instruments through junior high and high school. He was the kid hanging out in the band room during lunch time. While in high school, most of his free time was spent playing with local bands, doing studio recording, and playing in local churches. Rory grew up listening to a variety of music greats but took a special interest in Stevie Wonder. "I remember the first time I discovered he was blind," says Rory. "He was being guided up to the stage to receive a Grammy for his album "Songs in the Key of Life." I remember asking my father, 'Why are they helping him up to the stage?' That album was a turning point for me. It is what inspired me to write songs." Soon after that, Rory began playing around on the piano and organ at his home church. "The group that I have now is a constant. I have found some very dedicated people who share my same goals. We are looking forward to a future of making good music and growing together." Rory has been writing songs since the early 1980's and continues to write most of the songs he performs.
Rory Seldon with InnerSession can be seen performing at several different venues around the Los Angeles and surrounding areas performing their blend of Soul, Funk and Old School R&B mixed with just the right amount of original material.
Rory Seldon with InnerSession was booked for a once a month show at famous Blue Café in Long Beach for over 6 years. They have also played at other well known venues such as the House of Blues Hollywood, BB Kings Blues Club, The M Bar Hollywood, Wokcano Gospel Brunch series, and Kobe's Lounge. They are often invited to perform at outside festivals, Cultural Celebrations, political fundraisers, and private parties. They have been regulars in the Rock 'n' Roll Marathon series in the cities of Los Angeles, Pasadena, Las Vegas, San Jose and San Diego. Recently, they have had shows at the famous House of Blues on Sunset in West Hollywood.
Rory Seldon with InnerSession's official website is located at www.RorySeldon.com. There you can buy tickets for upcoming shows, view the official tour calendar, purchase CDs, view typical set lists, hear sample songs and stay up to date with the bands activities. There is also an official Facebook page at www.Facebook.com/Rory.Seldon.